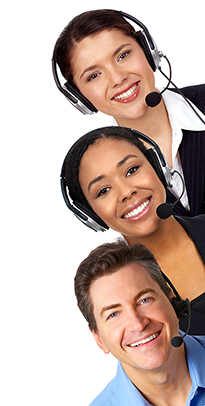 AnswerCalifornia Offers Your Customers The Best Solutions
AnswerCalifornia offers Inbound Direct Response services that provide communication with each caller that can increase sales, and provide profits on your marketing investments. The primary objective of each AnswerCalifornia Business Support Associate is the professional attention paid to every one of your customers immediate needs. Whether that customer is contacting your company through a live chat, telephone or email, AnswerCalifornia is always ready with the tight response to handle any orders, customer concerns or resolving any customer complaint or product inquiry.
Our service begins with learning everything we can about your business, about your products, your policies, your sales approach, your office protocols and your way of dealing with every customer issue. AnswerCalifornia acts in your stead with every customer, as far as they are concerned, we are your office.
Inbound Direct Response Increases ROI
The AnswerCalifornia approach to Inbound Direct Response Support makes us the ideal partnership for direct marketers. Our associates have undergone training that gives them the edge needed to handle the needs of your direct response campaigns. The professional image they convey will reflect positively on your company and strengthen your brands image.
The marketing efforts you put forth to increase your marketing investments are expensive. When you want to be sure you never miss a single call generated by those efforts, then AnswerCalifornia 24/7/365 Inbound Direct Response support is the solution. AnswerCalifornia will answer every call, including those related to the following:
Lead Generation
Lead Qualification
Advertising Initiatives
Marketing Initiatives
Media Buy Specialized Routing
Customer Feedback
Product Related Information Inquiries
Order Taking
Order Processing
Order Management
Do not take the chance on your customers becoming impatient and calling the competition, call AnswerCalifornia today and ask us about our Inbound Direct Response Service. Protect your investments', increase your clientele and your profits.
Here at AnswerCalifornia, every clients company is treated as the unique and productive business it is. Our ability to customize our services to your company's individual needs, ensures our associates are providing the specially designed assistance that mimics your front office staff's professional approach to your clientele.
AnswerCalifornia offers clients a way to open up new lines of communications with your company, from using live chat for service calls to providing the enhanced 24/7/365 customer sales support, client/caller answering service, advanced technology, professional service, and talented staff enhance both your customer service and your bottom line.
Call AnswerCalifornia at

1-800-369-8741

and trust us to provide the exceptional customized answering service you deserve.