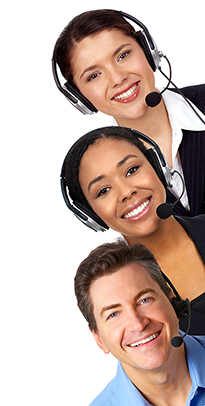 Answer California's Inbound Call Handling service gives you an easy way to manage your volume of calls without having to invest in additional staff. We strengthen your business by delivering outstanding service and support to your clients, professionally communicating with them according to your direction.
People call your business and company for any number of reasons. From scheduling appointments to taking orders and answering questions, our staff serve as an extension of your company 24 hours per day, 7 days per week, 365 days per year.
AnswerCalifornia Helps Businesses Succeed
AnswerCalifornia provides professional inbound call answering services that leave an invaluable impression on your every caller. Real time answering with confidence and calmness leaves an impression of professionalism with every caller that reflects positively on your business. As a corporate level answering service, AnswerCalifornia has the CRM systems in place that allow our associates to cater to every need of any caller; from small businesses wishing to build clientele and strengthen their brand to the large corporations seeking office management overflow, our associates capture your callers attention with their professional demeanor and knowledgeable responses.
Increase Your Customer Service and Sales Capabilities
With the assistance of AnswerCalifornia your business can expand your existing capabilities in capturing all inbound sales calls, this increases your profits. Our inbound call handling will also increase the positive customer service handling procedures of your company and this leads to client retention and customer satisfaction.
AnswerCalifornia Inbound Call Handling Services
Increased Client Retention
Clients and customers appreciate the caring persona of your company when every call is answered with friendly support, no matter the needs of the caller. Our associates act as your primary contact or as a supplemental team member representing your office staff.
Help Desk Associates
Callers needing basic information, from customers, clients, patients to your own staff will appreciate our associates friendly responses, instructions or advice or knowledgeable answers about your company's products or services.
Technical Support
Inbound call handling for tech support will find the pre-set directives you have provided for your company and all technical support assistance for inbound calls will be handled precisely as you have planned.
E-Commerce Transactions
Every clients online or telephone support options will be maximized in order to ensure your shopping cart abandonment numbers decrease. You can increase your conversion rate with our associates professional e-commerce operation solutions.
Here at AnswerCalifornia, every clients company is treated as the unique and productive business it is. Our ability to customize our services to your company's individual needs, ensures our associates are providing the specially designed assistance that mimics your front office staff's professional approach to your clientele.
AnswerCalifornia offers clients a way to open up new lines of communications with your company, from using live chat for service calls to providing the enhanced 24/7/365 customer sales support, client/caller answering service, advanced technology, professional service, and talented staff enhance both your customer service and your bottom line. Call AnswerCalifornia at 1-800-369-8741 and trust us to provide the exceptional customized answering service you deserve.
If you're looking for a way to handle your call volume and need outstanding service call us today or sign up for our Free Trial!
We handle inbound calls for:
Customer Service
Polls & Surveys
Order Taking
After Hours & Urgent Calls
And much more…