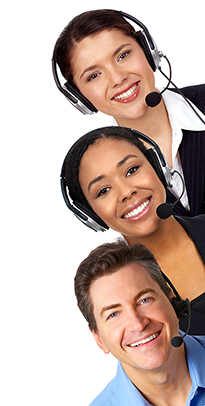 AnswerCalifornia/Waste Management Call Answering Services
The rapid increase in the volume of hazardous and non-hazardous solid waste within the United States escalates yearly by over 8%, and over 50% of all Municipal Budgets are spent on waste removal. If you are one of the thousands of Waste Management Companies who works hard to operate on the 3R Principle of Reduce, Reuse and Recycle, then you are kept busy all day long with calls from Commercial, Residential, Municipal and Environmental clients who need your services desperately. If your Waste Management Company is one of the companies that are backing the Responsible Electronics Act, then when it passes you will be even busier with the management of the growing amount of toxic E-Waste generated domestically within the United States.
Let AnswerCalifornia provide the assistance you need now, and in the future with our professional 24/7/365 Live Answering capabilities, and virtual receptionist and front office help, staffed by highly skilled Business Support Associates. We have consistently beat out the competition with our ability to exceed industry standards for all of our clients.
Real Solutions Provided By Real People
AnswerCalifornia is your best choice when you want your Waste Management clients needs addressed by real people in real time. Our associates answer every call with a friendly, knowledgeable associate who acts as a professional, dedicated representative of your company. With their bilingual capabilities, every Waste Management client will find a supportive staff member who can communicate clearly and accurately with them and provide the support or service they need to feel taken care of.
Based on the information you provide, our integrated CRM systems are backed by your own office systems, and our associates can speak with your Waste Management Company's clients and support their request for appointments, scheduled services, meetings, office hours, and any additional information you want to share with your callers.
Guaranteed Results With Precision Services
When you call AnswerCalifornia, you are going to find services that exceed your expectations from our associates. With their assistance your Waste Management Company will rise to the top of the list, and be able to handle your clients needs with superior service that outranks all of the competition. Services like:
AnswerCalifornia will relay messages or lease applications according to your instructions. We can input information into a fax, email, SMS text message or forward it directly into your company web-enabled system. All calls can be transferred directly to you, we can page you with a potential application or we can speak directly with the potential lease holder and answer any application questions directly from your own pre-set answers, and we can even pre-qualify all clients according to your requirements.
Waste Management Call Answering Services Include
Online Support Via Web Chat and Email
Live Telephone Answering 24/7/365
Toll Free Nationwide Phone Numbers
Waste Management Facilities Lease Application Completion
Direct Transfer of Important Clients Applications
After Hours Maintenance Solutions
Inbound Direct Response
Bilingual Services
AnswerCalifornia delivers an account focused attention to details. Coupled with our training program, our associates are fully screened and each has to meet a select standard of performance in customer service and professional demeanor. Our Business Support Associates are after all fielding calls for Waste Management professionals who are looking for every advantage over the competition and AnswerCalifornia is a virtual extension of their front office.
AnswerCalifornia has the customized capabilities to provide multi-level data-management, multi-user access, and customer focused support that allows your potential Waste Management clients to have the full access and support they need in order to continue to trust your Waste Management company.
Waste Management providers nationwide have relied on the 24/7/365 live answering services of AnswerCalifornia to ensure their profitability and productivity increases even when they are not at work.
Our customers enjoy increased lease retention and revenue. Advanced technology, professional service, and talented staff enhance both your customer service and your bottom line.
Call AnswerCalifornia at
1-800-369-8741

and trust us to provide the exceptional Waste Management customer answering service you deserve.