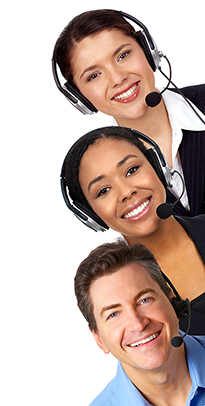 AnswerCalifornia/Small Business Call Answering Services
Small business owners have to walk a fine line between taking care of their current customers and finding the time to generate new contacts in order to build their business. You need an answering service that understands the cost effective approach to helping their clients with invaluable standards of excellence. You need the professional assistance of AnswerCalifornia Small Business Support.
We work with hundreds of small business in the residential and commercial service provider industries. AnswerCalifornia has helped small businesses like Real Estate, HVAC, General Contractors and Home Health Care Providers achieve their dream of having a successful business with a reputation for superior customer service and support.
AnswerCalifornia handles small business needs for virtual office staff, call center assistance and innumerable other resources across the nation. With our associates handling all of your call overflow, or even acting as your primary point of contact with all of your customers, you can save money on staffing needs and overhead cost. Unlike your office staff-we only get paid when we are actually working.
When you want to be there after hours when customers call for an order, or be there when one of your patients is in a crisis, then let AnswerCalifornia Business Support Associates take those calls for you, forward all emergency or important calls immediately, take those orders and make those sales before your customers turn to the competition.
Unlike your current staff, our Business Support Associates work around the clock, all year long. They strive daily to re-enforce the professional image of your company, and treat your callers with the respect and courtesy your own office staff provides.
AnswerCalifornia Service Options and Benefits
Customer Service
Online Support Via Web Chat and Email
Live Telephone Answering 24/7/365
Toll Free Nationwide Phone Numbers
Call Forwarding
Online Scheduling and Appointments Management Through Your Web-Based Scheduling System
Instant Direct Messaging (PDA, SMS, IM, Pager, Cell Phone)
After Hours Answering
Call Transfer and Routing
Inbound Direct Response
Free Active Response Tools
Voicemail Services
Bilingual Services
Web Call Center Services
Secretarial Services
Virtual Office Assistance
Lead Generation Services
Call Center Solutions
Help Desk Services
Call Center Inbound Call Handling
Call Center Outbound Call Handling
Hotline Services
Appointment Scheduling
And More
With AnswerCalifornia associates working at your direction, you will never miss another call, important message, your staff will never be overwhelmed, and you can have the smooth, efficient front office you have always wanted. Your clients will always feel cared for and important, and they will appreciate the live answering service that provides the solutions or resolutions for all of their questions or concerns.
Here at AnswerCalifornia, every clients company is treated as the unique and productive business it is. Our ability to customize our services to your Small Business' individual needs, ensures our associates are providing the specially designed assistance that mimics your front office staff's professional approach to your clientele.
AnswerCalifornia offers clients a way to open up new lines of communications with your company, from using live chat for service calls to providing the enhanced 24/7/365 customer sales support, client/caller answering service, advanced technology, professional service, and talented staff enhance both your customer service and your bottom line.
Call AnswerCalifornia at 1-800-369-8741 and trust us to provide the exceptional customized answering service you deserve.