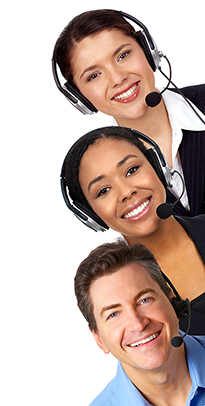 AnswerCalifornia/University Call Answering Services
Never miss another potential students inquiry again, their need for education is matched by your School Systems need for enrollment. With the increase in marketing that is taking place by most School Systems in order to pull the interest of potential students, the increase in calls can be handled by AnswerCalifornia staff on a part-time basis, during your lunch breaks, after hours and on weekends.
AnswerCalifornia utilizes the latest in technology to ensure your callers every need is supported. With the AnswerCalifornia hosted CRM central database, our associates can interact with your callers through any medium they choose in real-time. New applicants seeking communication with and service from your School System will find access to chat, email and phone support with highly skilled, industry specific, educated Business Support Associates.
Every potential students call is answered and handled according to your schools call handling procedures readily displayed on our associates computer screen. We have the capability to take a simple message or move through your educational, financial and student specific, unique communication requirements in order to handle any type of service call. Our associates will offer the greeting callers would receive if they called your offices between 9-5, they will have access to your School Systems definitive protocols, contact details, services and educational, financial and housing offerings.
School System Call Answering Services Include
Online Support Via Web Chat and Email
Live Telephone Answering 24/7/365
Toll Free Nationwide Phone Numbers
Call Forwarding
Online Scheduling and Appointments Management Through Your Web-Based Scheduling System
Instant Direct Messaging (PDA, SMS, IM, Pager, Cell Phone)
After Hours Answering
Call Transfer and Routing
Inbound Direct Response
Free Active Response Tools
Voicemail Services
Bilingual Services
AnswerCalifornia will relay messages or take down pertinent information. We can input information into a fax, email, SMS text message or forward it directly into your School Systems web-enabled system.
AnswerCalifornia delivers an account focused attention to details. Coupled with our training program, our associates are fully screened and each has to meet a select standard of performance in customer service and professional demeanor. Our Business Support Associates are after all fielding calls for School System professionals who are looking for every advantage over the competition and AnswerCalifornia is a virtual extension of their front office.
AnswerCalifornia has the customized capabilities to provide multi-level data-management, multi-user access, and student focused support that allows your potential students to have the full access and support they need in order to continue to trust your School System student support system.
School Systems nationwide have relied on the 24/7/365 live answering services of AnswerCalifornia to ensure their profitability, student retention and productivity increases even when they are not at work.