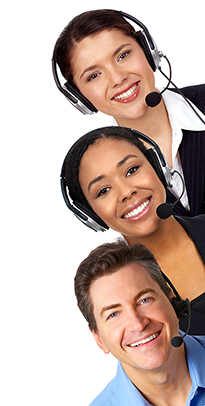 AnswerCalifornia/Plumber Call Answering Services
When homeowners are looking for a residential plumber to fix a leaky pipe, or a commercial contractor needs a plumber who can read blueprints for a new high-rise office building, they want someone who can handle the job, and they want a plumber they can talk to now. With a market stretched tight by economic woes, customers are looking for plumbers who can provide the dependable, affordable, prompt services your plumbing company provides. So how can you stay on their list of service providers that can be trusted and be reached?
Professional plumbers are like every business, they need to find the one thing that gives them the edge over the competition. AnswerCalifornia can provide that edge with our 24/7/365 Live Answering Support. Plumbing customers do not want to speak to a machine, leave a message or be put off by hearing you are unavailable, they want customer service that tells them you are always ready to take on any job, no matter how small or large.
AnswerCalifornia can act as your front office when your staff is over burdened, out to lunch or an a job. Our associates provide the high quality customer support that always gives your business reputation the added lift that takes it above the mundane support offered by your competition. Satisfied customers are return customers, and we work alongside you or your plumbing staff to deliver the front office support they want.
Our associates work daily with plumbing companies around the nation, and we have trained our staff to handle any question, inquiry, concern or plumbing specific call that comes in. We handle plumbing companies that specialize in all areas like the following:
Residential Plumbers
Commercial Plumbers
Repair and Service Plumbers
Pipe Fitters
Marine Plumbers
Municipal Plumbers
Water Treatment and Filter Companies
Water Heater Companies
Drain Cleaning Specialist
and more
No matter what your specialty plumbing service, AnswerCalifornia can handle your inbound and outbound call flow.
Plumbing Call Answering Services Include
Online Support Via Web Chat and Email
Live Telephone Answering 24/7/365
Toll Free Nationwide Phone Numbers
Call Forwarding
Online Scheduling and Appointments Management Through Your Web-Based Scheduling System
Instant Direct Messaging (PDA, SMS, IM, Pager, Cell Phone)
After Hours Answering
Call Transfer and Routing
Inbound Direct Response
Free Active Response Tools
Voicemail Services
Bilingual Services
AnswerCalifornia will relay messages or take down pertinent information. We can input information into a fax, email, SMS text message or forward it directly into your company web-enabled system.
AnswerCalifornia delivers an account focused attention to details. Coupled with our training program, our associates are fully screened and each has to meet a select standard of performance in customer service and professional demeanor. Our Business Support Associates are after all fielding calls for Plumbing professionals who are looking for every advantage over the competition and AnswerCalifornia is a virtual extension of their front office.
AnswerCalifornia has the customized capabilities to provide multi-level data-management, multi-user access, and customer focused support that allows your potential clients to have the full access and support they need in order to continue to trust your Plumbing company.
Plumbing firms nationwide have relied on the 24/7/365 live answering services of AnswerCalifornia to ensure their profitability, client retention and productivity increases even when they are not at work.