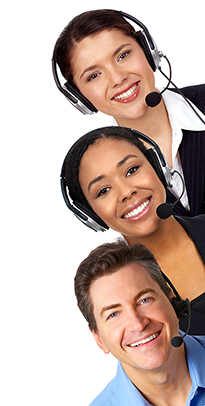 AnswerCalifornia/Medical Supply Call Answering
Your competitors are offering an extensive list of products that are similar to your Medical Supply Companies own inventory, so how do you beat them at the same game? You need to develop business plans that allow you to improve as a customer service focused company, cut cost and provide the optimum in order taking, bring in new clients, and improve your productivity at every level. With the assistance of the AnswerCalifornia 24/7/365 live answering capability you can do all of this and more.
The modern world of medicine has seen leaps and bounds in the past decade, and your Medical Supply Company needs to stay ahead of the competition with every tool at your disposal. The industry developments in medical supplies has seen a leap into the virtual world with cutting edge improvements like VideoDoc and other instant real-time and video conferencing systems. You can stay ahead of the competition, save money and never miss a request for medical supplies again using the similar developments in 24 Hour Live Answering communication devices with the virtual assistance of AnswerCalifornia.
A few of the virtual services we provide our Medical Supply Company clients are going to help your bottom line, and take your cost well below what you might expect from the high quality service you will be receiving. Services like:
Our Business Support Associates perform a wide range of services and act as your virtual front office. With our integrated CRM systems, we can tie directly into your appointment book and you will never miss another appointment, have your daily appointments updated as clients call in, and have every phone call answered when you and your staff are overwhelmed with business volume or it is after hours.
Virtual Front Office
Online Support Via Web Chat and Email
Live Telephone Answering 24/7/365
Toll Free Nationwide Phone Numbers
Online Scheduling and Appointments Management Through Your Web-Based Scheduling System
Instant Direct Messaging (PDA, SMS, IM, Pager, Cell Phone)
Call Forwarding
After Hours Answering
Call Transfer and Routing
Inbound Direct Response
Free Active Response Tools
Voicemail Services
Bilingual Services
Medical Supply Orders
Among the services AnswerCalifornia provides is an ability to train our associates as virtual salesman; teaching them to up sell and seek out complimenting cross-selling products that raise the level of your profits per sale. The HIPPA training they have received allows them to function as a virtual extension of your own front office, with speed and precision they handle sales calls using the correct terminology and your exacting instructions for handling all interactions with your clients and providers.
Targeted Telephone Campaigns
With the assistance of AnswerCalifornia your Medical Supply Company can use outbound telephone calls to bring in new customers, inform existing clients of vital promotions they can use, and increase your sales with targeted marketing campaigns.
AnswerCalifornia knows that when your clients call they deserve the best customer service, and we are dedicated to maintaining the high level of courteous, professional customer service that ensures your clients trust in your Medical Supply Company capabilities never falters.
Our customers enjoy increased patient-client retention and revenue. Advanced technology, professional service, and talented staff enhance both your customer service and your bottom line.
Call AnswerCalifornia at
1-800-369-8741

and trust us to provide the exceptional Medical Supply Company answering service you deserve.