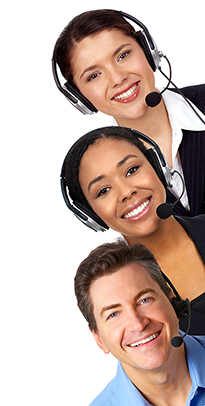 AnswerCalifornia/Medical Receptionist Call Answering
When your staff is too busy to handle the extreme number of calls your medical practice is receiving, or you have staff that have called out sick, you do not have to miss a single call, request for an appointment, call from a concerned parent, or a vitally important message. Just call AnswerCalifornia and ask about our premier Medical Receptionist Services.
AnswerCalifornia is proud of our reputation for delivering outstanding, comprehensive Medical Receptionist Services. We understand the demanding nature of the health care provider industry, and our extensively trained staff of Medical Receptionist are here to assist you with answering your calls when you and your office staff are unavailable are too busy to handle the extreme volume. The training they have received allows them to function as a virtual extension of your own medical practice, with speed and precision they handle calls using the correct terminology and your exacting instructions for handling all interactions with your patients and other callers.
Your patients will always receive the friendly, professional responses they want, just as if they were speaking to a member of your front office staff. With our Medical Receptionist Services dedication to providing the best in-office patient-associate experience possible, your patients will maintain their trust and confidence in your medical practices ability to care for their needs.
Medical Receptionist Services Include:
Online Support Via Web Chat and Email
Live Telephone Answering 24/7/365
Toll Free Nationwide Phone Numbers
Medical Call Answering Trained Associates
Online-On-Call Management
Doctor Paging
Instant Direct Messaging (PDA, SMS, IM, Pager, Cell Phone)
Call Forwarding
Patient/Time Critical Call Processing
Online Scheduling and Appointments Management Through Your Web-Based Scheduling System
After Hours Answering
Call Transfer and Routing
Inbound Direct Response
Free Active Response Tools
Voicemail Services
Bilingual Services
AnswerCalifornia operates out of the San Diego area, yet our fortified CRM network reaches out nationwide and forms a bulwark of unique communication options that allow our medical office clients to maintain total contact through any medium with their patients in real-time. The Business Support Associates who work for AnswerCalifornia have received training in professionalism, medical industry specific communication skills, and each displays a constant level of confident assurance that will reflect positively on your medical practice.
AnswerCalifornia knows that when your patients call they deserve the best customer service, and we are dedicated to maintaining the high level of courteous, professional customer service that ensures your patients and their families trust in your medical practice capabilities never falters.
When your medical practice patients are used to being serviced with discretion, anonymity and quiet confidence, the Medical Receptionist Services at AnswerCalifornia will handle your patients with the same sense of respectful propriety. Here at AnswerCalifornia we take adherence to confidentiality and privacy policies seriously. Your patients and staff never have to worry, our compliance to patient privilege is 100%.
Our customers enjoy increased patient-client retention and revenue. Advanced technology, professional service, and talented staff enhance both your customer service and your bottom line.
Call AnswerCalifornia at 1-800-369-8741 and trust us to provide the exceptional Medical Receptionist Services answering service you deserve.