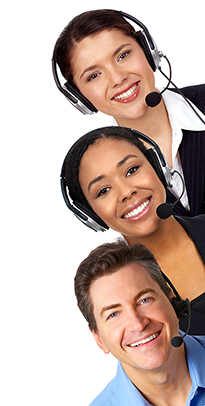 AnswerCalifornia/HVAC Call Answering Services
As a professional HVAC company your office staff small or large, is always fielding calls for services from residential home owners, property management firms, commercial building owners or managers, and new construction contractors looking for professional HVAC services they can depend on. From simple HVAC repairs to complete, complex installations of HVAC systems, you never want to miss a single call for your services.
With the assistance of AnswerCalifornia and our well trained, professional staff we are confident that our 24/7/365 Live Answering Service you will never be late for an important job, meeting or miss a clients service call.
Just like you and your HVAC company, we believe in being here for our clients, and taking care of their every need. From taking messages while your office staff is at lunch, answering every call in the evenings, over the weekend, or on Holidays, we guarantee that your HVAC customers will always find a friendly, courteous, professional, knowledgeable real person on the phone.
HVAC Clients Services Include
Online Support Via Web Chat and Email
Live Telephone Answering 24/7/365
Toll Free Nationwide Phone Numbers
Call Forwarding
Online Scheduling and Appointments Management Through Your Web-Based Scheduling System
Instant Direct Messaging (PDA, SMS, IM, Pager, Cell Phone)
After Hours Answering
Call Transfer and Routing
Inbound Direct Response
Free Active Response Tools
Voicemail Services
Bilingual Services
AnswerCalifornia will relay messages or take down pertinent information. We can input information into a fax, email, SMS text message or forward it directly into your company web-enabled system.
AnswerCalifornia delivers an account focused attention to details. Coupled with our training program, our associates are fully screened and each has to meet a select standard of performance in customer service and professional demeanor. Our Business Support Associates are after all fielding calls for HVAC professionals who are looking for every advantage over the competition and AnswerCalifornia is a virtual extension of their front office.
AnswerCalifornia has the customized capabilities to provide multi-level data-management, multi-user access, and customer focused support that allows your potential clients to have the full access and support they need in order to continue to trust your HVAC company.
HVAC firms nationwide have relied on the 24/7/365 live answering services of AnswerCalifornia to ensure their profitability, client retention and productivity increases even when they are not at work.