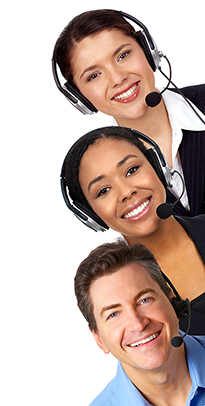 AnswerCalifornia/Hospital Call Answering
Modern medicine requires a hospital to have a first rate live answering service that is designed to filed all communications regardless if the medical staff, support staff or  front office staff is in for the day or out. Patients and their families, physicians, contractors, insurance carriers and emergency staff require assistance they know they can trust to be courteous, meticulous and accurate at all times. AnswerCalifornia provides that assistance with our precision focused live answering service.
A normal day for hospitals and urgent care facilities are filled with crisis situations, and the simple act of answering a phone call with a prompt response is a basic requirement in order to alleviate wait times during high volume call periods. Especially during these times of economic upheaval when hospitals are having to cut staff, AnswerCalifornia can take up the slack, and save your hospital money by only charging when our Business Support Associates are actually fielding calls and taking messages.
AnswerCalifornia provides the services that keep hospitals and urgent care facilities running smoothly, their patients and their patients families stress is alleviated because we take care of the office while your hospital staff takes care of the patients, and your hospital staff never misses a single call that needs immediate attention.
Hospital Live Call Answering Services Include:
Hospital Answering Service Trained Associates
Online-On-Call Management
Emergency Call Screening
Doctor Referral Request
Doctor/Surgeon Paging
Instant Direct Messaging (PDA, SMS, IM, Pager, Cell Phone)
Call Forwarding
Patient/Time Critical Call Processing
Online Scheduling and Appointments Management Through Your Web-Based Scheduling System
Appointment and Scheduling Confirmation Calls
Patient Lab Results Notifications
Patient Prescription Reminder Outbound Calls
Prompt Routing Of All Emergency Messaging
Provide Accurate, Precise Pre-Surgical Instruction Reminders
Complete Data-Base Management (Emergency and On-Call Scheduling)
After Hours Answering
Call Transfer and Routing
Inbound Direct Response
Free Active Response Tools
Voicemail Services
Bilingual Services
AnswerCalifornia knows that when your patients call they deserve the best customer service, and we are dedicated to maintaining the high level of courteous, professional customer service that ensures your patients and their families trust in your hospitals capabilities never falters.
When your hospital patients are used to being serviced with discretion, anonymity and quiet confidence, the Business Support Associates at AnswerCalifornia will handle your patients with the same sense of respectful propriety. Here at AnswerCalifornia we take adherence to confidentiality and privacy policies seriously. Your patients and staff never have to worry, our compliance to patient privilege is 100%.
Our customers enjoy increased patient-client retention and revenue. Advanced technology, professional service, and talented staff enhance both your customer service and your bottom line.
Call AnswerCalifornia at
1-800-369-8741

and trust us to provide the exceptional Hospital answering service you deserve.