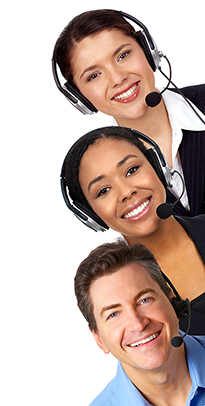 AnswerCalifornia/Healthcare Professional Call Answering
In today's busy world, healthcare professionals such as physicians, psychologists, dentist, surgeons, and other medical specialists find it hard to provide the superior level of patient care their patients deserve and keep up with the running of a front office at the same time. Especially when that front office is understaffed due to illness or budget cuts.
AnswerCalifornia can take care of your front offices ever expanding extreme volume, and our trained Business Support Associates can work with you and your staff to lighten the workload so you and they can concentrate on the premier medical care procedures your patients need.
While it would be a perfect world if every patient or new patient inquiry could be answered without delay in your office, it is almost impossible to guarantee. Healthcare Professionals need assistance in the lab or patient cubicle, a stressed our parent on one line does not wish to be put on hold while your staff answers an incoming call, all of these situations happen regularly in any medical practice; and the phones are still ringing, unanswered.
With the assistance of AnswerCalifornia Business Support Associates' every call can be answered promptly, and your patients will receive the exact service response they need. We work 24/7/365, and your patients will receive the courteous, accurate, clear answer they are looking for or their call can be forwarded to the designated member of your staff that you have appointed for the day.
Healthcare Professionals Call Answering Services Include:
Online Support Via Web Chat and Email
Live Telephone Answering 24/7/365
Medical Trained Associates
Doctor Paging
Instant Direct Messaging (PDA, SMS, IM, Pager, Cell Phone)
Call Forwarding
Online Scheduling and Appointments Management Through Your Web-Based Scheduling System
After Hours Answering
Call Transfer and Routing
Free Active Response Tools
Bilingual Services
Your patients deserve the best customer service that can be provided. When you or your staff are unavailable, your patients will always receive the friendly, professional responses they want, just as if they were speaking to a member of your front office staff. With our dedication to providing the best in-office patient-associate experience possible, your patients will maintain their trust and confidence in your Healthcare Professionals ability to care for their needs.
AnswerCalifornia will relay messages or patient inquiries according to your instructions. We can input information into a fax, email, SMS text message or forward it directly into your medical practices web-enabled system. All calls can be transferred directly to you, we can page you with a potential emergency or we can speak directly with the patient and answer any non-emergency questions directly from your own pre-set answers, and we can even pre-qualify all patients according to your requirements.
Our fortified CRM network reaches out nationwide and forms a bulwark of unique communication options that allow our Healthcare Professionals clients to maintain total contact through any medium with their patients in real-time. The Business Support Associates who work for AnswerCalifornia have received training in professionalism, medical industry specific communication skills, and each displays a constant level of confident assurance that will reflect positively on your medical office.
We are not an alternative for 911, and all emergency calls will be directed to the appropriate emergency provider for your medical office. All non-emergency inquiries will be forwarded to your On-Call Staff as directed. AnswerCalifornia stays in a state of constant readiness and preparedness with your staff, so each days On-Call listing is updated according to your medical offices online system directions.
Our customers enjoy increased patient-client retention and revenue. Advanced technology, professional service, and talented staff enhance both your customer service and your bottom line.
Call AnswerCalifornia at
1-800-369-8741

and trust us to provide the exceptional Medical Office answering service you deserve.