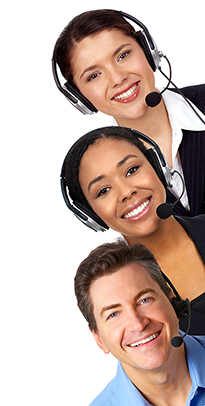 AnswerCalifornia/Dentist and Dental Office Call Answering
AnswerCalifornia offers live answering services 24/7/365 for Endodontists, Oral Surgeons, Pediatric Dentists, Periodontist, Prosthondontists, and family dental offices. Whether you are a member of a large multi-dentist practice or a single dentist building your first practice, AnswerCalifornia will work with you to design a customized script and call routing diagram that will be based on your Dental Office front office requirements. We understand the demanding nature of the dental care provider industry, and our extensively trained staff of Business Support Associates are here to assist you with answering your calls when you and your office staff are unavailable.
With the strong poise and professionalism provided by our Business Support Associates, every web chat, every phone call, email and fax from one of your current dental patients or potentially new dental patient will be answered according to your directives.
With the complete list of services AnswerCalifornia can provide your dental office, you never have to worry about a patients not receiving an immediate response that further cements their trust in your dental office services.
Dental Office Call Answering Services Include
Online Support Via Web Chat and Email
Live Telephone Answering 24/7/365
Toll Free Nationwide Phone Numbers
Medical Trained Associates
Online-On-Call Management
Emergency Call Screening
Dental Referral Request
Dentist/Surgeon Paging
Instant Direct Messaging (PDA, SMS, IM, Pager, Cell Phone)
Call Forwarding
Patient/Time Critical Call Processing
Online Scheduling and Appointments Management Through Your Web-Based Scheduling System
After Hours Answering
Call Transfer and Routing
Inbound Direct Response
Free Active Response Tools
Voicemail Services
Bilingual Services
AnswerCalifornia extends your office hours, and thereby extends the scope of your customer service capabilities. The Business Support Associates who work for AnswerCalifornia have received training in professionalism, medical industry specific communication skills, and each displays a constant level of confident assurance that will reflect positively on your dental office.
Your patients will always receive the friendly, professional responses they want, just as if they were speaking to a member of your front office staff. With our dedication to providing the best in-office patient-associate experience possible, your patients will maintain their trust and confidence in your dental offices ability to care for their needs.
We are not an alternative for 911, and all emergency calls will be directed to the appropriate emergency provider for your Dental Offices. All non-emergency dental patient inquiries will be forwarded to your On-Call Staff as directed. AnswerCalifornia stays in a state of constant readiness and preparedness with your staff, so each days On-Call listing is updated according to your Dental Offices online system directions.
Our customers enjoy increased patient-client retention and revenue. Advanced technology, professional service, and talented staff enhance both your customer service and your bottom line.
Call AnswerCalifornia at
1-800-369-8741

and trust us to provide the exceptional Dental Offices answering service you deserve.