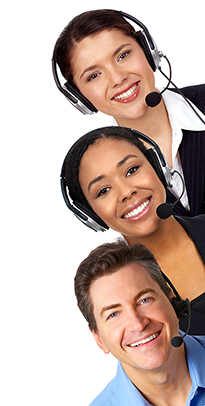 AnswerCalifornia Call Answering Services For Credit Agencies
Performing the duties of a Credit Agency is a powerful responsibility. Whether you are on of the Big Three, or one of the hundreds of smaller credit agencies that represent regional, industry specific, or smaller companies and individuals, you still perform the same two basic services of collecting and reporting credit information on consumers in the United States, and in most cases internationally as well.
The flexibility of your Credit Agency customers professional workdays should be reflected in your banks ability to provide access to your services. When your workday ends before your clients, they should still have the ability to find the Credit Agency services they need that meet their high expectations and unique needs. That is where the 24/7/365 live answering services provided by AnswerCalifornia comes in to focus.
With the AnswerCalifornia hosted CRM central database, our associates can interact with your potential customers through any medium they choose in real-time. Credit Agency clients seeking communication with and applications from Credit Agency professionals will find access to chat, email and phone support with highly skilled, industry specific, educated Business Support Associates.
Every potential clients call is answered and handled according to your company's call handling procedures readily displayed on our associates computer screen. We have the capability to take a simple message or move through your company specific, unique communication requirements in order to handle a full credit report inquiry. Our associates will offer the greeting clients would receive if they called your offices between 9-5, they will have access to your company's definitive protocols, contact details, services and company offerings.
Credit Agency Call Answering Services Include
Online Support Via Web Chat and Email
Live Telephone Answering 24/7/365
Toll Free Nationwide Phone Numbers
Call Forwarding
Scheduling and Appointments Management
After Hours Answering
Call Transfer and Routing
Inbound Direct Response
Free Active Response Tools
Voicemail Services
Bilingual Services
AnswerCalifornia knows that your commitment to exceptional Credit Agency service is dependent upon your clients access to your Credit Agency information and support centers. We are dedicated to maintaining the trust and proactive service for which your Credit Agency is known for. You work for your customers, and we work with you to ensure they are never disappointed in your response. AnswerCalifornia will relay messages according to your instructions.
We can input information into a fax, email, SMS text message or forward it directly into your company web-enabled system. All calls can be transferred directly to you, we can page you with a potential application inquiry or we can speak directly with the potential client and answer any credit questions directly from your own pre-set answers, and we can even pre-qualify all clients according to your requirements.
Our customers enjoy increased client retention and revenue. Advanced technology, professional service, and talented staff enhance both your customer service and your bottom line.
Call AnswerCalifornia at
1-800-369-8741

and trust us to provide the exceptional Credit Agency customer answering service you deserve.