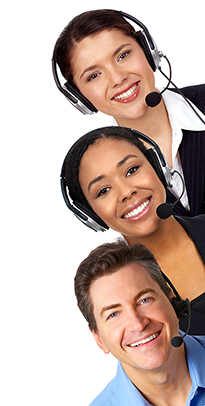 AnswerCalifornia/Claims Adjuster
When a client is looking for the best claims adjuster to procure expedient settlement of any size property insurance claim, the last thing they want to hear is a voicemail saying you are unavailable. If you want to ensure your claims adjuster business never misses that all important call, then you should call AnswerCalifornia.
AnswerCalifornia is a professional live answering service that handles clients nationwide. Our Business Support Associates have received training that ensures they are using the correct terminology, are familiar with the insurance industry claims process, and are always available to act as your front office 24/7/365.
When you are unavailable to answer a call, an email or a fax, AnswerCalifornia associates are there to handle your clients needs. Whether it is a question about insurance contracts, a clients coverage, or questions in regard to negotiating insurance claims, we can offer service in real-time. Our extensive database and innovative computer systems allows us to store an abundance of information that our associates will use for effective communication with your claims adjuster clients. When you want the exclusive privilege of answering your clients questions, AnswerCalifornia will transfer the calls to a member of your staff, notify you by pager or email, or input the information directly into your website database.
AnswerCalifornia will answer every call promptly using the information you provide and your client will never know they are speaking with a third party representative. We will be here acting as your front office staff over the weekend, Holidays, and evenings. Unlike your regular staff, we only charge for time spent with a client, unless you choose to opt in for your very own dedicated staffing option that allows you the exclusive service provided by a Business Support Associate that works only for your claims adjuster firm.
Claims Adjuster Answering Services Include
Online Support Via Web Chat and Email
Live Telephone Answering 24/7/365
Toll Free Nationwide Phone Numbers
Call Forwarding
Appointment Management
Direct Transfer of Top Lead Grades
After Hours Lead Capture
Inbound Direct Response
Lead Qualification, Lead Grading
Active Response Tools
Soft Selling of Your Company Services
Bilingual Services
AnswerCalifornia has taken all of the guesswork out of hiring professional live answering services. Every call that is forwarded to our CRM Network is answered using your company name. With our staff of professionals, lead browsing is even easier with the help of Active Response Tools that work with your already existing websites.
When your claims adjuster company has clients who are used to being serviced with discretion, anonymity and quiet confidence, the Business Support Associates at AnswerCalifornia will handle your clients with the same sense of respectful propriety. You choose the customized scripts we use with your clients, and we treat every client you have as if they were ours.
Our customers enjoy increased client retention and revenue. Advanced technology, professional service, and talented staff enhance both your customer service and your bottom line.
Call AnswerCalifornia at
1-800-369-8741

and trust us to provide the exceptional claims adjuster firm customer answering service you deserve.