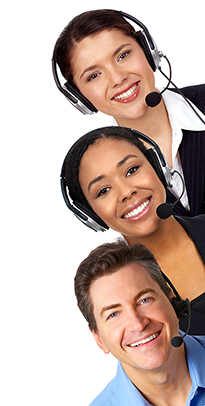 AnswerCalifornia/Brokerage Call Answering Services
When your business is actualizing buy and sell orders for investors, or acting as a potential commercial or residential land owners advisor on property values before a sell or buyout, then you know that the crucial element to your Brokerage and Sales firm success is maintaining a high level of leads and clients who trust you to be there when they want you there. For the times you and your staff are too busy to answer an overflow of incoming calls, gone for an important meeting, or closed for the day or weekend, AnswerCalifornia can be there to pick up the phone when you are unable.
Capturing Leads Before The Competition
Investors and clients do not want to talk to a voicemail, when they hear an actual, knowledgeable voice they are more likely to leave a message, call back number or provide the information you have been waiting for to close a sale or begin a new one. With the highly skilled Business Support Associates at AnswerCalifornia on the phone, your clients will never be disappointed in your offices professionalism and the sense that you feel they are the most important client you have at the moment.
There are times when your office may need organization skills that are beyond your current staffing levels. Instead of hiring new employees, let the professionals at AnswerCalifornia take care of your office management task. We can work within the confines of your current web-based services to take care of on-line scheduling and appointments. When new leads call in, then our associates are fully capable of grading and managing leads in order to capture newfound clients and meet their unique needs, just as if you had answered the phone personally.
AnswerCalifornia handles your front office duties 24/7/365 and is here to assist you whenever you find the need to transfer your Brokerage and Sales office task to our support team. Our associates always answer the phone with the precise instructions and scripted greetings and follow through that you use daily in your office. Clients will never know they are speaking to someone not sitting behind a desk in your office anywhere in the country.
AnswerCalifornia has taken all of the guesswork out of hiring a professional live answering service. Every call that is forwarded to our CRM Network is answered using your company name. With our staff of professionals, your clients specific needs will be met even easier with the help of Active Response Tools that work with your already existing websites.
When your Brokerage and Sales firm has clients who are used to being serviced with discretion, anonymity and quiet confidence, the Business Support Associates at AnswerCalifornia will handle your clients with the same sense of respectful propriety. You choose the customized scripts we use with your clients, and we treat every client you have as if they were ours.
Our customers enjoy increased client retention and revenue. Advanced technology, professional service, and talented staff enhance both your customer service and your bottom line.
Call AnswerCalifornia at 1-800-369-8741 and trust us to provide the exceptional Brokerage and Sales firm answering service you deserve.